Like our previous trip to Japan, the upcoming trip will consist of a lot of travel time in trains, be it Shinkansens, Limited Expresses, local trains and hopefully even sleeper trains.

Here's some photos of the trains that I managed to photograph. I read somewhere that the camera's flash can be a nuisance to the train drivers, that's why most of my photos were of trains being stationary. (and it's sure is a lot easier to photograph than a moving train!)


Limited Express Haruka, photo taken at Tennoji Station. We took this train from Kansai Airport to Shin-Osaka Station and from Shin-Osaka to Tennoji.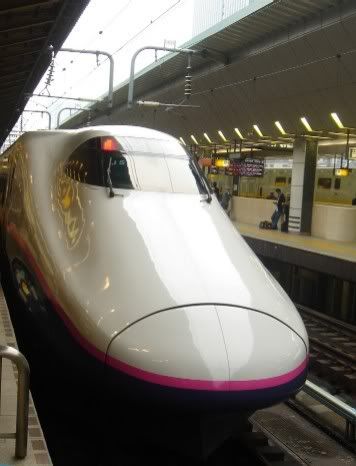 Max Asama and the double-decker Max-Yamabiko Shinkansen.Photos taken at Tokyo Station.
Nozomi and Hikari Railstar Shinkansen, photos taken at Shin-Osaka & Himeji Station respectively. The Nozomi Shinkansen is not covered under JR Pass, so we have yet to ride in one.
In Kyushu. Limited Express Relay Tsubame and Limited Express Sonic. We took the Relay Tsubame to Omuta, to go to UltramanLand. We rode Limited Express White Sonic to go to Beppu. This Blue Sonic is for our ride back to Hakata.

Our March trip will probably include travelling in these trains : Haruka, Hikari, Relay Tsubame, Ariake, Sunrise Izumo, Max Toki, Hokuetsu and Thunderbird. We are so excited!!!!! Wait for new train our photos in April, OK?