Today's observation: If we ever made it to Tokyo again next year, we wouldn't choose a hotel in Ikebukuro. The area is convenient and we certainly can't beat the fact that it's walking distance to the shopping area, but it seemed to be overrun by people from other parts of East Asia. Now, don't get me wrong. I have no problem with any nationality in particular, its just that when in Japan, I'm so used to people not hogging the few tables at the small dining area in Toyoko Inn that other guests were forced to wait or worse, forgo their breakfast. Free breakfast at Toyoko Inn to me does not mean all you can eat buffet. You eat, and you clear the table for the next guest. Why oh why some people insist on eating their breakfast for two hours and eating way too much onigiris and drink too much miso soup? You don't see Japanese doing this. (Humph! Can I still blame my rantings on PMS?) And the crowd in general - way too crowded for my taste.
Day 8; Sunday, Mar 23, 2008
Went to Shibuya to
Kak Aini
's house. Her husband kindly picked me & Raimie, together with both
Ummi
&
Nad
with their sons at Shibuya Station. Thank you so much!
Had a fun time meeting up with
Kak Hani
and the very adorable Aimee, Kak Pah, Kak Mega and also
Nash & Riza
and their kids. We did have a good time, and Raimie was happy to run around playing. I enjoyed the day, even though have to "cakap Utagha" for a while. :D
I can't wait to see the photos! I didn't take any, so you guys - can I nick some of the photos for my collection?
Kak Aini & family, thank you for your hospitality (not forgetting the chef of the day too!). And thank you for the gifts too! You guys are the best! Good company, fabulous home cooked food and a smashing great time. What more can we ask.
Went back at 5.00pm, and there were hordes of people at Shibuya Station. Got back to Ikebukuro Station without a hitch despite the huge crowd at the station and decided to head straight back to our hotel to check whether Zaini had already return from his own day trip (we went our separate way today).
Went back out for dinner, and check out what the boys got for themselves.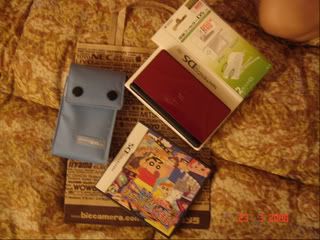 Zaini bought a new Nintendo DS Lite for himself (in red) for 16,000yen (less 800yen than published as we are tourists. Good to be a tourist in Japan, no?) and Raimie got the new Shin-Chan game and a bag to put his white Nintendo DS Lite. I will so get ignored from now on. Hahahaha....
I think we gave the cashier at Bic Camera a nervous breakdown when we asked about the duty free entitlement as we're buying stuff that cost more than 10,000yen. Got the 5% tax exemption (but we need to pay for them at 1st Floor, the cashier just had to run the whole way from 4th Floor) so we only ended up paying about 20,000yen for the whole thing.

On Monday, we'll head off to Karuizawa and maybe look for a couple of Ultraman toys on the way back. Thanks to Kak Hani & Kak Pah, Raimie can buy another Ultraman and one more Kaiju / Seijin tomorrow. Thanks guys!

I just want to add that, since back from Shibuya; Raimie kept saying Sonna no Oppapi for no apparent reason. Wonder where he got that from? Hehehe