Check out the Kyushu photos and post.


Arrived Hiroshima with the rain reduced to a drizzle (
see post on Mojiko
). Didn't do much sight seeing as it was too cold and wet to venture out.
The next day was a complete opposite. We were blessed with fine weather and it was sunny throughout the day.
The first half of the day was spent at Miyajima Island. My initial plan was to spend a night at one of the island's ryokan, but decided against it and cancelled our reservation at one of the ryokans there. Maybe next time.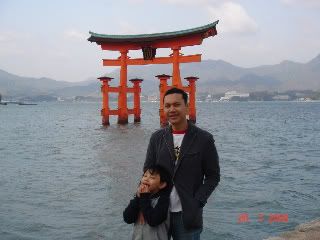 Compulsory touristy photo with the floating torii gate in the background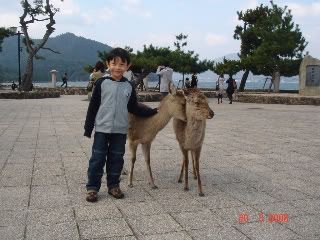 Raimie with the deers. The deers pretty much ignored us because we don't smell of food. They literally zeroed on people with food in their hand
Next, we went to the
Hiroshima Peace Memorial Park
, taking the tram or street car from Hiroshima Station. Fee was a flat rate of 150yen.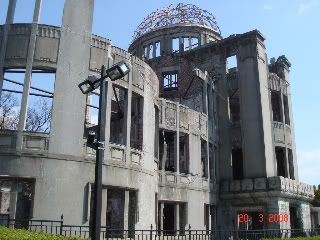 Felt a bit sombre thinking about the devastation of atomic bombs and also thinking about the WWII. My great grandparents and grandparents considered themselves lucky as they were not subjected to torture or worse killed by the Japanese soldiers (or taken away to build the "
Death Railway
" -
almost a forgotten history
).
But, whatever the atrocities that the Japanese Government and the soldiers subjected to the rest of the world, I strongly feel that bombing either Hiroshima or Nagasaki and killing innocent lives should not be the solution, no matter the result being Japan surrendering soon after.
Just for the record, my great grandfather survived the Japanese Occupation but was killed by the Communist because he was the contractor who agreed to build the district's police station.
Some news to ponder: