Next on our itinerary was a stop at Mojiko. We initially thought of just stopping there for a short while, just enough to take photos of the train station. I had wanted to stop at Mojiko station for years, as I found the station interesting. And
Hanny
, you kind soul you, took us around town.
Mekari Park
. A bit too early for Sakura viewing, but the view from the top of the hill was stunning. You can see the ocean and the bridge linking Kyushu Island to Shimonoseki. Simply breathtaking. There is a mural at Mekari Park, depicting the most important naval battle in medieval Japan.
In 1185, the Minamoto clan defeated their rivals, the Taira clan, at the
battle of Dan no Ura
. The leader of Taira clan, Taira no Tomomori threw himself into the sea rather than surrender. The child emperor Antoku, grandson of Taira no Kiyomori, and his grandmother (Tomomori's mother) too suffered the same fate (being forced to).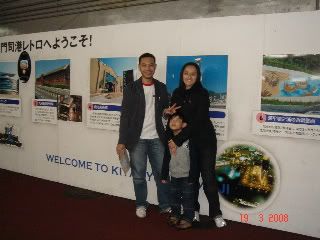 Then, off we went to the underground tunnel of Moji-Shimonoseki but we walked only halfway. Die'lah walked all the way to Shimonoseki. There were people training/running/jogging in the tunnel so it was kinda hard to walk freely.
After a tempura lunch, we headed to
Mojiko Retro
for another round of sightseeing. I absolutely love the musical box museum there. There's an option to built one's own music box at the upper floor, but being an artistically un-gifted person, I decided to just buy a ready made one instead.
During the whole visit to Mojiko Retro, we were blessed with drizzle and strong wind, that we see no point of opening our umbrella at some point for fear of doing a "Mary Poppins" stunt. Hehehe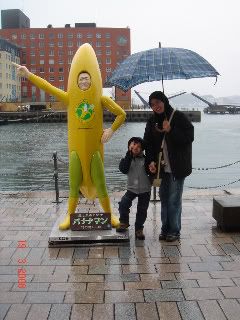 Raimie and Hanny with Banana Man.
It was well after three when we departed to Hiroshima. Once again, thank you so much Hanny (and thank you for the omiyage too. We just finished them all today!) I thank Allah for the weather, because if not for the weather, we might not stop at Mojiko and I wouldn't have met Hanny at all.

Next stop was Hiroshima and Miyajima for a day.