I posted our trip reports earlier, so it is time to post some photos too. The order of photos I'm going to post will be in the order of the places we visited.


First off, some photos taken during our journey to
Huis Ten Bosch
, taking the Huis Ten Bosch Limited Express train from Hakata Station.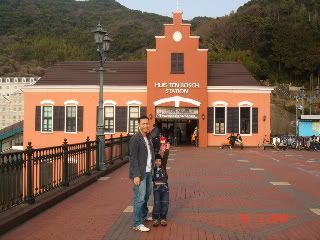 In front of Huis Ten Bosch's Station
The
ANA Hotel Huis Ten Bosch
in the background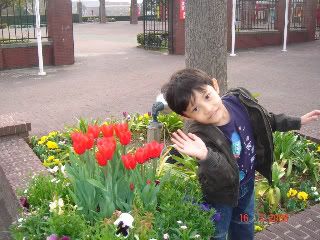 Tulips near the entrance of
Huis Ten Bosch
In the
current situation
where calls for bans on Dutch products, should we boycott this park as it is based on a Dutch Town? Seriously though, that would just taking matters a bit too far.
Aside from the park, nothing much going on here. After the park closes, I guess it would be the norm for hotel guests to use the hotel's facilities: spa, eating at restaurants, bars or whatnot. Us, we were asleep at 8.00pm.
Also, when we were there, our hotel put up a notice to conserve water as Sasebo City had (has?) not had rainfall since August. We were advised to use the spa facility if we want to have a bath as guests were encouraged to just shower instead.
Sure hope they experience some rain by now. They are welcome to take over the rainstorm that is now a daily occurrence in Malaysia! (Don't get me started on the horrendous traffic jam we experienced due to flash flood!)
The next day, after sending our bags to the hotel, we took the Tsubame Shinkansen to Kagoshima-Chuo just for the heck of it.