Friends asked us how we can afford a holiday in Japan as the hotel rates are so high (well, compared to Malaysia anyway). For the first two trips to Japan, we did spend quite a lot for our stay in a 5 star hotel as we were a bit hesitant to opt for a cheaper hotel (unfortunately this came from bad experiences at hotels in China).
We got to know about Toyoko Inn from Japan-Guide forum and there are a lot of mention of this chain in Taiwan's forum. I know some people had issues with Toyoko Inn such as access for disabled guests and what not... To us, this chain offers reasonable price (below 10,000 yen for the the three of us, free breakfasts, cheaper drinks at its vending machine, free 3 minutes phone calls, free internet access, etc). However, for anyone who would like to return to their room early, this chain might not be a suitable choice. The reason being, guests have to leave their room at 10.00 am and can only return at 4.00pm (this is to facilitate the cleaning of the rooms). Which way why we resorted to napping at
McDonald's
.
And compared to the more well-known hotels that we choose to pay extra in Japan before, I'd rather stay at Toyoko Inn and save my money for other important stuff like buying toys for Raimie.
Photos of our breakfasts at Hakata, Hiroshima, Ikebukuro and Kanazawa. Pretty standard, right? Note that by the time we reach Kanazawa, I am unable to eat any more onigiri. That one ball of onigiri was Raimie's breakfast. And for those who can't live without coffee, the coffee here was quite decent (compared to coffee I bought at the train stations)

As always, Zaini and Raimie loves the assorted pickles served.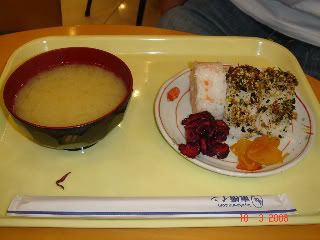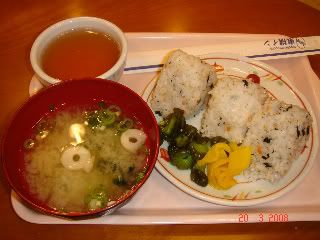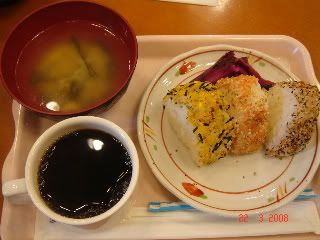 Breakfast at Nanba. Freshly baked bread. Nice but not enough. (There's a note put up to remind guest to be considerate to other guests and not eat too much bread)