Okay, granted that the Ultraman Max Malaysia Tour 2008 is a ploy to make parents spend money and buy sub-standard VCD at a marked-up price, but who cares, right?
One need to spend at least RM19.90 at Speedy Video to be able to take photo with Ultraman Max. So, off we go and bought one for Raimie. The VCD used to cost around RM9.90/RM12.90, but it is now repackaged (new cover) and came with a free (rather dubious looking) Ultraman figure that have blinking lights and sound. There goes our peace and quiet at home... XD
This being Malaysia, Ultraman Max was 15 minutes late. And everyone who was not queuing pushed forward to get a chance to take Ultraman Max's photo.
But all in all, quite a cool experience. There were free stickers and brochures handout, and when we were queuing, there were Double Decker snacks (Double-Decker being the sponsor for Ultraman Max shown on TV3) being distributed. Got a free photo printed out too, and the wait for the photo was quite minimal since we were no. 3 in line. (Did I mention I am Kiasu? Hehehe) And maybe next time Jusco and Speedy can do a joint venture and hold a bigger Ultraman event.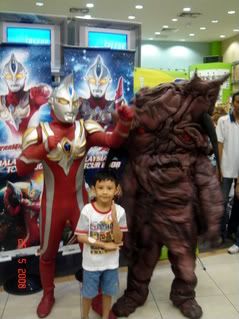 Raimie with Ultraman Max and one "sad, dejected" looking monster in front of Speedy Video outlet at Jusco Cheras Selatan