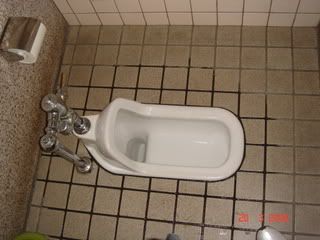 I posted about a
high-tech toilet
earlier. So, I thought I post a photo of a squat toilet this time around. :-)
How many of you have no problem using this toilet?
These toilets can still be found in abundance in Japan, even at Disneyland (well, last time I checked, anyway). This one I took at Hiroshima Peace Park. - Malaysia's version of squat toilet is slightly different than this one.
How to use Japanese style toilet,
here
.