Taking it easy last weekend, cooking simple food.


On Saturday, I cooked teriyaki salmon for lunch. It was salmon, salad, miso soup and some kimchi (a bit fusion here) for lunch. No sweat at all! I used to make the
teriyaki sauce
myself, but now I just buy the ready made sauce and adjust the taste accordingly.
On Sunday, I decided to make oyakodon for myself and Raimie and tori kara age (grand name for fried chicken) for Zaini. It's been ages since I cook oyakodon, mainly because we don't eat chicken that much at home. Zaini preferred
gyudon
, anyway. (And I really prefer the kampung or wild chicken than the supermarket variety. I am a kampung girl, after all)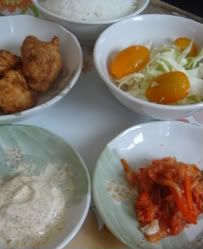 Zaini's simple lunch. Rice, tori kara age, raw cabbage & cherry tomatoes, spiced up mayonnaise and kimchi
Dinner is always a simple affair for us, because we don't eat that much (I am after all trying to watch my weight). Our food of choice at the moment is the very simple, idiot proof chazuke. Cook some rice. Open a packet of instant chazuke and pour hot water. Easy and yummy! (thanks
Kak Lela
for the packets of instant chazuke!)
I am planning to stock up on instant chazuke packets for our sahur during the fasting (Ramadan) month. I love Japanese idea of convenience.