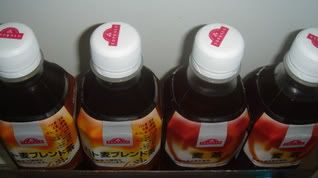 Of late, Jusco in MidValley (and also at other branches) seemed to be overload with almost expired Japanese products. Almost expired stuff, with perhaps about a month or so more shelf life.

Since we are cheap, we have no qualms in buying these items especially as they are heavily discounted. Most usually go for 50% - 70% discount. And it is one way for us to save on groceries, while eating imported food items. (Yes, I know our carbon footprint is HUGE!)

Last week, we got some salad dressing and instant miso soup for just RM2 and RM5 instead of the usual retail price of RM8.90 and RM10.90 respectively. This week, we are stocking up on tea. Barley tea to be precise. RM2 for a 500ml bottle. And they expire in August too! Still have lots of time to drink them!

A note of reminder for fellow Malaysian Muslims. Do not be too excited in buying these cheap Japanese food stuff - before you buy that cheap senbei/potato chips at Jusco, you might want to take note that the senbei/chips sold, while may not contain any pork item, they might not be OK for you to eat as they might contain other meat extract. OK? So don't be too excited buying these cheap products. Do look at the list of ingredients! (Just because your Chinese friend said it is OK for you to eat them because it doesn't contain pork doesn't mean it is so). There had been numerous time I had to remind my friends who insisted that the stuff they bought were OK to eat since there were no pork extract listed, but they forgot to check on other meat extract that might be inside and there might be alcohol content inside too.