I seriously think that I need to check my sugar level after my vacations in Japan. Instead of drinking plain water or green tea like I do here, I consume way too much sugared drinks there. Ditto for Raimie. It's just that there are so many cute and interesting drinks to try out. We simply can't resist! (Especially with all those Jido-Hanbaiki readily available everywhere and I mean, everywhere!)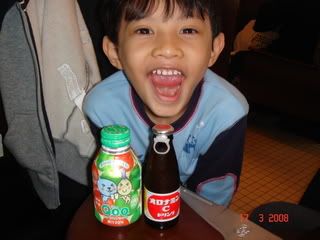 Raimie loves these two drinks. Qoo - because it is so cute to pronouce and Oronamin C because of the Den-O TV ad.
Both are available here, but at RM4.50 for the small 52yen priced Qoo can drinks to RM5.50 for Oronamin C, it is not something I'll buy for him if he is thristy here!
For both Zaini and I, we tend to buy Aquarius a lot and have it readily available in our hotel room because it is cheap!
I do love CC Lemon, but I can't take them on an empty stomach. :-)