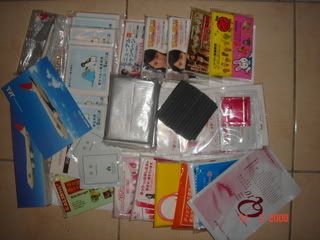 Every time we came back from our holiday in Japan, I don't need to buy any pocket tissue for months (and I'm not exaggerating!) Love those free tissues.
Other than these tissues, we came back with lots of other free stuff. I remember in 2002, I got quite a number of Tsubaki shampoo & conditioner samples (I make sure I went by the girls distributing the samples a few times that time in Shibuya - kiasu mah), and I love them so much I made a point of looking & buying those Tsubaki Shampoo on our subsequent trips.

Last year's bounty comprised of :
Tissues
Facial masks
Facial toners
Mirrors
Postcards
Notepads
Hairbands
and of course free soaps and box of matches from the hotel. No taking home hotel towels for us!
Next year I'm hoping to get more as Contamination of
jDonuts
did say he'll keep some for me.