Mid-Autumn Festival is also known as Mooncake Festival. Mid-Autumn falls on Sep 14 this year and one can see stalls set up in shopping complexes selling mooncakes already. For me, its all about commercialism nowadays. (Not that I'm complaining since both Zaini and I love mooncakes and we can only eat them at this time of the year!)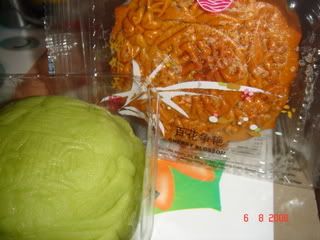 Got my first box of mooncakes two days ago and they were particularly interesting because one of them was a snowskin green tea mooncake and another was a cherry blossom mooncake. Mooncakes flavours are getting more and more exotic. There's even durian flavoured mooncake!

Green tea mooncakes are quite commonplace but for the cherry blossom mooncake, this is the first time I saw one. The ingredients included cherry blossoms and plum powder. Interesting, eh?

Read about the stories of Chinese Moon Festival
here
. But before the Mid Autumn Festival, there's the Hungry Ghost Festival (Hell's gate supposed to open come midnight Aug 15). Read all about it at
EastCoastLife
's blog.
Footnote:
The first day of the 8th month of the lunar calendar in on Aug 31 which incidentally is Malaysia's independence day.
And the first day of
Ramadhan
is Sep 1 this year. (psst... semua dah ganti puasa belum?) Time to step up our ibadah. Hmm... but this also has become way too commercialised. Seems like the month of Ramadhan now equals to gorging ourselves silly at hotel buffets.