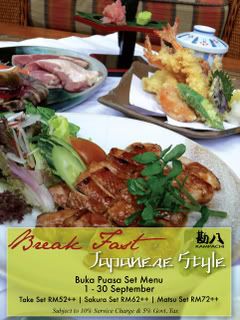 I called Zaini earlier today and told him about this
promotion
at Kampachi (since my birthday is coming in 2 days' time). I thought I might as well give him a hint where to take me for dinner.
Equatorial Bangi is not that far (I think) from our house, and we do not need to go to town - I mean, KL City Centre; and face the traffic jam. Now, I only need to show him the photos and hopefully I can cajole him in taking me there. Wish me luck!
Though I'm not saying no to an
8-course dinner
at Kin No Uma Restaurant or even a shabu-shabu at Nagomi! Hint hint.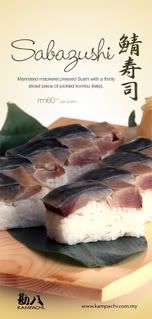 Just thought I post another photo of Kampachi, Pavillion's promotion. Yummm.
I will need to get him something nice for his birthday on Sep 23. Can't go too far for dinner since his birthday falls on a working day. (Unlike mine which falls on Sunday) :-)Ninja Jones Izakaya at Northpoint would be an option since Zaini has not been there yet. He doesn't believe me when I told him there are ninjas there. Not true ninjas, but servers dressed like a ninja. Should be fun!