Onigiri - rice ball in English or Nasi Kepal in Malay, makes me think of a highly popular Japanese Drama of yesteryears; Oshin. I doubt there's anyone growing up in the 1980s who didn't know or never heard of Oshin.

Oshin tells of story of a woman's struggle in Japan, born in a poor family and persevered through all the challenges that came her way and made a success in her life.

Jim of Self Magic wrote about his visit to
Kirishima
. There were quite a number of comments about his order of onigiri there.
Kak Lela of Awan Okinawa Berlalu poignantly wrote about her "bekal" of 4 onigiri balls for her daughter returning to Singapore after spending her holiday at home in Okinawa.
Fly Away Tyme
in English and
Tatkala Masih Ada Sebelah Kepal
in Malay about how the 4 balls were shared and eaten slowly by her two daughters. A mother will never stop worrying after their children and I can feel her love for them (and maybe a bit of loneliness?) just by reading her posts.
Kak Lela, growing up and leaving home from the age of 13, I relish any food I brought from home to my boarding school. I remember when I was 14, my aunt made me a coconut cake and I slowly consumed it at school eating just a few bites each day, so slow that it had started to grow molds but I still wouldn't throw it away because the cake reminds me of home.
Raimie loves onigiri. I always opted for a good dose of furikake sprinkled liberally on rice for my onigiri just because it is easy and I have lots of furikake stocked up in the kitchen.

It is easy to shape the onigiris as I have some onigiri moulds at home that I bought from Japan, but these moulds are available here at Jusco, Isetan and other supermarkets too.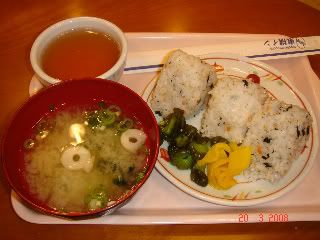 We had plenty of opportunity to enjoy delicious onigiri in Japan, and some free ones too at Toyoko Inn, a hotel chain we stayed in while vacationing in Japan.
Eating onigiri accompanied with tsukemono (Japanese pickles) and a bowl of miso soup on the side is absolutely a divine way to have a meal. Actually, Raimie ate more during breakfast there than back in Malaysia.