After spending a night at
Taenoyu Onsen
, enjoying the onsen then taking the
steam locomotive
and being swamped by people in
Omotesando
, it was time for some retail therapy for us. Armed with our JR East Passes, we took the shinkansen to Karuizawa, about an hour and half from Tokyo.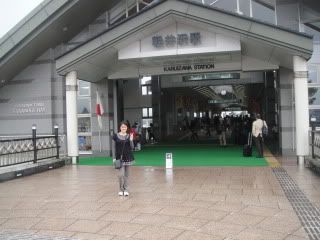 Me, in front of Karuizawa station before embarking on our retail therapy session. Karuizawa is an upmarket mountain resort at the foot of the active volcano Mount Asama. Apart from the shopping opportunities that we were there for, there are various outdoor activities, such as tennis, hiking, cycling, golfing in summer and skiing and skating in winter that can be enjoyed in Karuizawa.
We spent almost a day just walking from shops to shops. The first shop we went in was Nike Factory Outlet. You bet I acted like a girl in a candy shop here. I simply love my
Nike stuff
. I'm decked in Nike from top to toe when I hit the gym, after all. Despite my grand intention to do some serious shopping here, I only bought a skirt, a boot and a Nike gym bag. Zaini did more damage to his wallet buying one stuff that wasn't in his shopping list. At the Nike shop, he got himself a new pair of pants. We also bought Giants T-Shirts (got one for Zaini as his birthday present which was on Sep 23rd) at Adidas shop. Went completely ga-ga drooling over designer goods, but luckily I was sane enough to stop myself from going on a mad shopping spree. I was reluctant to even enter the Coach boutique but somehow can't resist after Zaini's prodding. I wish I have more $$$ to spend!!! Zaini spent a bit of time at the BAPE store; trying out stuff, but ended up not buying anything there.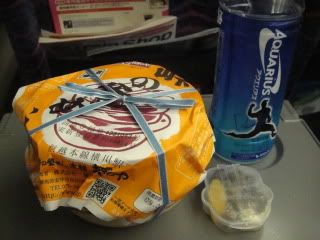 If you are looking for something to eat, you might want to consider this one. A popular ekiben which was first sold in Karuizawa, it is called kamameshi, and are still sold in nearby stations. It contains mountain vegetables and chicken cooked with rice in an earthenware pot. The pots make a nice souvenir to bring home.
The earthenware ekiben was kept heated and you get a hot meal when you purchase them. We witnessed a huge queue at a stall selling this ekiben. And each customer seemed to buy more than one. Impressive.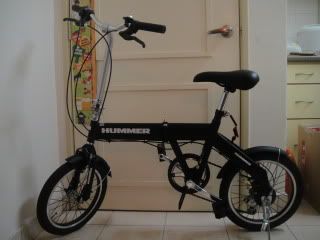 Zaini's big splurge. A foldable Hummer bike he got for 18,980yen. He forgo his intention to buy a miniature train set (which was almost the same price as the bike) to get this. I wanted to buy the train set for him as a surprise birthday gift, but sad to say, I can't afford them. :(