Continuing our hike on Mount Mitake, we made our way to the Rock Garden after spending abit of time at Musashi Mitake Shrine.
The Rock Garden is a narrow lush green valley with beautiful waterfalls, moss covered stones and rocks and gentle streams and is about 1.5 kilometers long from Ayahiro-no-taki waterfall to Nanayo-no-taki waterfall.
An awesome sight. We felt like we were transported to a different time, walking past this mossy part of the forest. It would be great to just sit quietly, savouring the scenery and let time pass by here.
We saw a few families and also school children with their teachers trying to set camp and were busy boiling water and cooking by the stream. While the water in the stream wasn't deep enough for a soaking wet time, the children were having fun by the river bank nonetheless.

From the rock garden, we descended and made our way back to the cable car station, stopping for a while at Tengu-Iwa Rock (Goblin rock).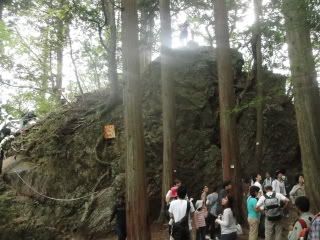 There is a rope on one side of the rock to the top, to enable you to climb on the rock, which some visitors seemed to relish doing but we chose not to because the climb up the rock is not exactly suitable (or safe) for children. From here, we start our descend and made our way back to the cable car station.
We finished our hike by 4.00pm and made a return journey back to Tokyo. Just like the bus trip from the train station, our return trip saw us queuing in a rather long queue. Raimie by this time was pretty tired and he kinda dozed off while waiting for the bus. Poor Raimie. Lucky we managed to get seats but Zaini gave his up for another family with a small boy.


We didn't manage to get a seat for Raimie on the train so we had to cajole Raimie not to fall asleep again, despite him whining a bit about being tired. I don't mind carrying him when he's awake, but it sure is hard to carry Raimie when he's asleep. He'll be flopping everywhere and become "lembik".

We managed to perk him up a bit with a promise to eat dinner at Denny's. So, Denny's was our next destination.