Drainspotting anyone?
I read a blog post by Jamaipanese titled
Drainspotting: Japan's Artistic Manhole Covers
and thought that finding and photographing these cool and artistic manhole covers would be a cool project while vacationing in Japan. I first took notice of these artistic manhole covers in Himeji. I saw them while walking towards Himeji Castle from the train station.
Zaini has his
stamp rally project
and he'll happily hop on trains and stop at every s.i.n.g.l.e train station in Japan for a stamp and I should have my own project too. Other than trying to photograph everything and anything for posts in this blog, that is.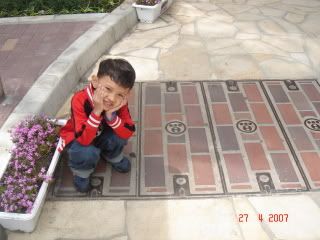 I'm always fascinated by the manhole covers I saw there, but I didn't take any photo of them because I felt cheesy & weird doing it. Chancing upon the post by Jamaipanese make me raring to go on a drainspotting mission.
Even this photo on the left, I asked Raimie to act cute for the camera although I actually wanted to take photo of the cute paws (or something) on the cover. Raimie said it looked like paws on
Blues Clues
. LOL. Photo taken in Ikebukuro way back in 2007.