Why the continuous posts of the same place lately? Read my reasoning here.

Also, read this interesting article over at This Japanese Life;
On Watching the News in Japan
. That said, let's not forget the heroes that risked their own lives to avert a nuclear meltdown and also the victims that are still trying to cope with their lives after the tragedy.
OK, now back to Matsushima.
Two stations you can stop at to get to Matsushima Bay.
Matsushima Station on the JR Tohoku main line.
Located 2km away from Matsushima Bay, be prepared to walk a bit if you decide to use this line to get to the bay area.
A train on the track that we spotted a few hundred metres walking from Matsushima Station. We turned right and walked on.
The closest station would be Matsushima-Kaigan Station. The track, elevated behind the station.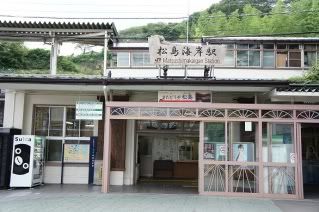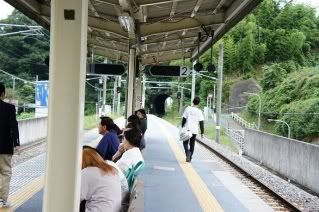 To get to Matsushima-Kaigan Station, get on the JR Senseki Line from Sendai Station.
As a coastal site, Matsushima has been severely affected. A state of emergency was declared and any travel to the region should be avoided at the moment. But I hope that once everything turns back to normal, visitors would start returning to visit this place. The shops, the restaurants, the inns and hotels, not to mention the ferries and boats need people in/on them.