I find that, during our travels-not only to Japan; travelling with a small child helps breaking ice with strangers. More often than not, people seems to be quite accommodating and it sure helps when you met people that travel with small children too. Zaini and I aren't all that sociable and we sure as hell won't approach strangers and start yapping with them but with Raimie tagging along (especially when he was smaller, cuter and better behaved), we've met and talked and made friends with a lot of friendly people who seems to love kids or with parent whose children became chummy with Raimie while playing together.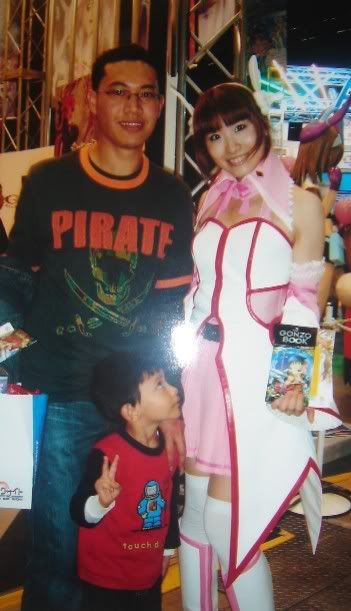 It helped Raimie's Daddy too when he was hesitant about taking photos with models at Tokyo Anime Fair, at first! When you do not want to look silly and excited over the models, what do you do? Put your son in the photo too! Then Dear Wifey can't be mad at you too, right? Of course in our case, Zaini is always allowed to flirt with anyone - female or male alike. I don't mind.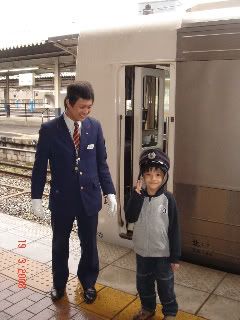 Friendly JR staff were always nice with our son and we got memorable photos because of that. I would've been quite reluctant asking the staff to pose together with us but more often than not, they approached us first. It's not as if they're a theme park staff and they do have their job to do.
There are random nice people we met during our vacation like that time we've gotten free ice-cream at Ultra De Restaurant, at Ultraman Land from a staff there.
Or that time, Raimie was given free Pokemon notebook by a fellow traveler, which she got buying an ekiben onboard a shinkansen.
Or the time a sweet old lady started talking to us and telling us about her grandchild who was about the same age as Raimie when we were heading into Daiso somewhere in Asakusa. Or when another old lady smiled obligingly at Raimie and gave us some candies while riding a local train. Elderly ladies seemed keen to talk about their grandchildren with us, that I noticed. Not that I understand much of their chatter, though.
So, to my friends who always leave their kids behind when they travel overseas and never cease to wonder why I wouldn't dream of leaving my son behind; why not travel with your kids? Sure, when they weren't potty trained yet, it's a hassle to clean-up their poop while being on the move, and they can whine a whole lot (wait till they're bigger and become argumentative, it's worse I tell you) but I think it was so much easier to travel when I can still carry my Son around compared to now, especially now that that Boy of mine knows the merit of arguing and questioning everything and also running off when he saw something he fancies! Now that we have to plan our trip around his school holiday, no more impromptu trips for us, not to mention no buying airtickets before we know the year's school schedule is.