When people hand over stuff (pamphlets, samples and whatnot) while you walk around in Japan, just take it. That's what we learn. Because the stuff that got handed over may be some coupons for cheap eats somewhere or discount on stuff.
Why pay full price of things when you can get it at cheaper price with coupons, right? I scour for it in KL and I do it in Japan too! It helps to lower our food expenses, that's for sure and also it got us to eateries that we wouldn't have tried otherwise.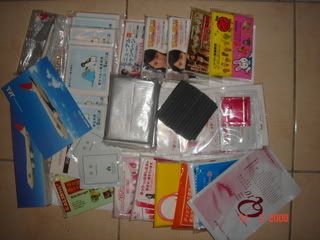 I kinda miss getting free tissues though. Our tissue bounty last year was a far cry from what we used to get in previous years. Either it's because we went sightseeing at unhip places or the economy was bad for companies to do tissue advertising anymore. And, and where are all those cosmetic samples I used to get when we strolled around Shibuya? Where????!!!!
Used to get freebies when we checked-in at Toyoko-Inn too, but no freebies last year. I miss my free socks!
With the amount of night we checked-in and checked-out at Toyoko-Inn branches, Zaini need not buy socks for a year! LOL
I guess no such luck this year. :(
But as I said, them handouts are gooooood...